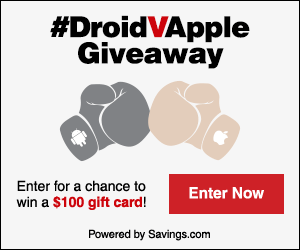 HURRY on over to
Savings.com
where you can
Enter to Win $1,000 worth of Verizon Wireless Gift Cards
to 10 lucky winners
! It only takes a minute to
enter
– all they need is an email address to contact you if you are the winner! Giveaway ends September 23rd.
Verizon Wireless
is also offering some great deals on several phone packages. Especially the
Iphone7
, which we've been waiting for at our house. You can learn more and get it ordered right online to pick it up at a store in your area.
Plus, make sure to cast your vote for which team you're on, #TeamDroid or #TeamApple simply by heading on over
HERE
. Want to win lots of fun prizes? Take part in the #DroidVApple Twitter Party happening Thursday, September 22nd at 1:00 PM ET / 10:00 AM PT. Simply RSVP here
bit.ly/DroidVApple
for a chance at $750 in prizes!